Located on the grounds of the National Garden in the Topkhane district of Tehran, The Malek National Library and Museum (Ketābkhāna va mūza-ye melli-ye Malek) is a must-see not only for researchers but also anybody visiting Iran's capital. While the museum holds an extensive collection of various artifacts, coins, artworks and carpets, the tens of thousands of Islamic manuscripts, many of which are rare and some unique, make the library one of the largest depositories of its kind in Iran.
History
The institution was established over seventy years ago on the initiative of Hosayn Malek, who died in 1972 at the age of 101. The center was initially located in his father's house in Tehran, until 1966 when it was moved to a new building in what was then the central part of the city. In his twenties, Hosayn Malek, the grandson of a high ranking Qajar officer, traveled to Khorasan with his father, where he had a chance to get acquainted with some of the most beautiful art works of Islamic world. It was during this trip that he made a decision to acquire his own collection of manuscripts and establish a library. Hosayn Malek's passion for other kinds of artifacts and artworks came in later years. In 1937 he decided to donate and endow his collection of precious objects and manuscripts to Astan-e Qods-e Razavi (a charitable foundation managing the shrine of Imam Ali Reza) for public use. It is a little difficult to determine when or how the different pieces from this extensive collection were acquired. What we do know is that at the time of Hosayn Malek's death the value of his endowments was estimated to be over several million dollars. In recent years Hosayn Malek's daughter, Ezzat Malek Soudavar, has made another significant donation to the center of arts works and Quranic manuscripts that further enriched the already extensive collection.
Collections
The center is divided into two sections: On the ground floor there is a museum and on the first floor there is a reference library and computer room.
The museum has well-presented collections of visual arts, paintings (European and Iranian), lacquered pen cases from the Qajar era, coins, an impressive collection of Qurans (including a part of Quran in Kufic script on a parchment leaf, ascribed to Imam Hassan Mojtaba), and other calligraphic masterpieces. The library has two reading rooms. One room has a number of volumes on subjects ranging from medicine and biology to geography, politics, history, and religious sciences. As of 2007, the library had approximately 70,000 printed books but this figure maybe slightly outdated. The library has been rapidly expanding and new books are constantly being added to the collections. At the time of visit stuff members regularly came in with trolleys stuffed with books. It is worth browsing through the shelves. The second reading room, also a computer room, holds all of the catalogs, periodicals, magazines, and a few shelves at the very back on subjects like mathematics, computer science, accounting or general English.
The center holds over 19,000 manuscripts dating from the tenth to the twentieth century. The manuscript collection is divided in two groups. The first includes philosophical, literary, historical and scientific works, most of which are either rare or unique. In particular, the staff members take great pride in the extensive collection of scientific works of Avicenna (Ibn Sina). The second group of manuscripts includes books from all over the Islamic world, many fine examples of Persian calligraphy and miniature (e.g. Shahnamas produced for the Safavid or Timurid kings) are kept here. The majority of works is in Persian, but one can also find works in Arabic and some in Ottoman Turkish.
The manuscripts in the collection are of great variety, but the overwhelming majority originate from Iran and its neighbors (i.e. do not expect to find many works related to North Africa, whereas there is quite a lot on Central Asia and India). At the same time one can easily find works by late Qajar intellectuals, medieval Islamic histories, as well as dynastic chronicles from the Ilkhanids to the Qajars, hermeneutics and other religious subjects as well as a lot of poetry. The oldest manuscript in the collection dates back to the fourth century of the Islamic era. Of particular interest are local histories of different provinces or cities of Iran (e.g. Kerman, Lorestan, Kordestan, Tabriz, Orumie…) and the travelogues (safarnama) of Hajj pilgrims and Persian and European travelers (inside and outside of Iran).
Research Experience
The Malek Library is one of the easiest institutions to access and use in Iran. The library's convenient and easy-to-reach location, friendly and helpful staff (some of who speak English), well-functioning software (albeit only in Persian), free WiFi, and very comfortable reading rooms make the Malek Library one of the best research institutions in Iran. The building has elevators and is relatively maneuverable in a wheelchair. The reading rooms are very spacious and never seem to be too crowded. The rooms, however, can get quite chilly as a consequence of the powerful air conditioning systems.
There is a fourteen-volume catalog of the library's manuscript collection–thirteen volumes of which have been prepared by Iraj Afshar and Muhmmad Daneshpazhuh while the most recent volume is a work of Seyyid Muhammad Hussein Hakim–available for reference in the main reading room. Catalogs for other Iranian libraries and archives, as well as for research institutions in Turkey and Europe are also available. The catalog provides some details on the manuscripts in the collection, including the date of acquisition and place and date of copy. The catalog is well organized and easy to use. The entries appear accurate, but the librarian has informed me that there are occasional mistakes, which will be corrected in an updated version of the catalog to be at the end of this year (Since my visit to the library a new edition, plus a new volume (14th) have been published). There is no electronic catalog available on the library's computer workstations yet. Ottoman and Arabic manuscripts are covered in the first volume of the catalog and are organized alphabetically, for the small number of works in these two languages. Volumes two to four contain descriptions of Persian manuscripts which are grouped according to subject, e.g. history, literature, science and medicine as well as law and fiqh, and within those groups are also arranged alphabetically. Volumes five to nine contain anthologies and collections while the rest, ten to fourteen are volumes of indices organized by authors, copyists, dates, manuscript names, etc.
Generally speaking, the whole collection has been cataloged and digitized. Researchers request to view manuscripts by submitting the appropriate catalog numbers to the librarian, who then uploads the manuscript to one of the library's workstation computers. The whole process takes no more than an hour. The quality of the digitized documents varies, but is generally quite decent and the computer interface is user-friendly. Although the quality of the digitized documents is fair (with some variations), all of the manuscript images are slightly obscured in the lower-right (or lower-left) corner, where the library has placed a digital watermark. Viewing original documents is more complicated and one needs to negotiate with the different members of staff and make good use of personal charisma.
Depending on the number of manuscripts that a researcher requests, the process of obtaining a CD with the reproductions usually takes between two to five working days (the center is open 6 days a weeks). Personally, I've not experienced any inconvenience while working at this library except perhaps for the rather arbitrary opening-closing hours (it is better to call the library before leaving home).  Generally speaking the best tip is to wake up early, go to the library and stay there until it closes as opposed to trying to combine a visit to the library with something else. Tehran simply is the city where it is often difficult to plan things.
Access and Reproductions
The center is officially open Saturday to Thursday from 8.30 to 16.30 during summer, and 9.00 to 17.00 during winter. We recommend calling before every visit to confirm that it is open. The museum and library (including computer room and reading rooms) are open to the public and registration is required. However, those who plan to request reproductions on CD or a viewing of the manuscripts need to bring a passport and an introduction letter (ma'rifatnama). Letters of introduction may be written by academic supervisors or departmental chairpersons (no specific format). They may also be obtained from the International Center for Persian Studies (ICPS), known as the Dehkhoda Institute. The Dekhoda letter of introduction is also accepted by all other major libraries, archives and research centers in Iran. As for the difficulty of the process, other than having to run around the premises getting signatures of different members of staff (takes no more than an hour) everything is pretty smooth and easily accessible. I have been told by a member of staff that taking pictures of manuscripts is not allowed. Reproductions of manuscripts cost 2,000 Rials per pdf page (approximately 7 U.S. cents) and generally take up to five days to be prepared.
Transportation and Food
The Malek Library and Museum is located in downtown Tehran, only five minutes away from Imam Khomeini metro station (Red metro line). Metro is by far the most convenient transportation option in Tehran (the traffic is pretty congested during most hours) and the center is best reached by metro. Tehran is certainly not known for its delicious street food but there a few places to have lunch or dinner around the center, including a couple of fast food places on Ferdowsi avenue and some decent cafes and lokma kebab on Mirza Kuchek Khan street, both are relatively cheap and within walking distance. Packing your own lunch might also be an option, as there are some really nice gardens and parks in the area. The archive itself is located inside a massive garden complex although there doesn't seem to be too many places to sit in the garden.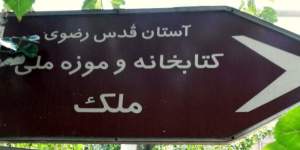 Contact information
Managing Director:
Seyed Mohammad Mojtaba Hosseini 
Mailing address:
Melal-e Mottahad Street, Bagh-e Melli, Imam Khomeini Avenue, Tehran, P.O. Box: 111555/547
Internet site and email:
www.malekmuseum.org (The Persian site has more options and information than the English version)
Phone:
0098 21 66726613, 53 (operator)
0098 21 66751291 (Public relations)
Fax:
0098 21 66705974
Resources and Links
An article about the library's collections and history, a little outdated but still useful
Some information on the compilation of catalogs
Catalogs:
فهرست نسخه‌های خطی كتابخانه و موزه ملی ملك (14 ج)، نگارش سیدمحمّدحسین حكیم، قم، كتابخانه تخصّصی تاریخ اسلام و ایران، 1393 خ
 فهرست کتابهای خطی کتابخانه ملی ملک وابسته به آستان قدس رضوی (1-13 ج)، زیر نظر ایرج افشار، محمد تقی دانش پژوه؛ با همکاری محمد باقر حجتی و احمد منزوی، تهران:کتابخانه ملی ملک، 1380 – 1352 خ  
__________________
Gennady Kurin is currently a doctoral student at Cambridge University researching Ottoman-Safavid relations and borderlands
Citation: Gennady Kurin, "Malek National Library and Museum", HAZINE, 3 Nov 2014, http://hazine.info/maleklibrary/