Written by Elise Burton
Note: This review was written in June 2015 following research in Milli Kütüphane between March and May 2015. Web links have been updated, but other details (e.g. photocopying fees, cafeteria prices) may no longer be accurate. Hazine readers are invited to submit updated information.
Turkey's national library, near the center of Ankara, has a diverse collection of materials dating from the early Ottoman Empire to the present. The bulk of the collection, namely monographs and periodicals, is of interest to historians specializing in the late Ottoman and early Republican periods. With over 27,000 manuscripts from provincial Anatolian collections, this library is also the second-largest manuscript repository in Turkey after the Süleymaniye Library in Istanbul. The digitized online collections, including the manuscripts, Ottoman periodicals, and audiovisual material, may also be useful to researchers in earlier periods of Ottoman history, Islamic studies, as well as music, film, and art history.
History
The Turkish government began to collect materials for a national library in 1946 under the auspices of the Turkish Ministry of Education. This collection was first opened to users in 1948 with a catalog of 60,000 items, though the National Library was not established as a formal legal entity until 1950. The original intention was for the library to become a repository for copies of every publication produced in Turkey, but this plan was never completely realized. Nevertheless, as the collection and number of users continued to expand in subsequent decades, planning for the much-larger building that currently houses the collections took place between 1965-1973. Construction of the present building was completed in 1982 and opened to the public in the following year.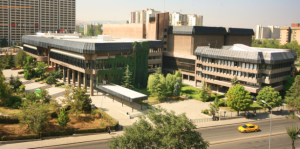 Collections
Although it does not hold every Turkish publication ever printed, the National Library surely holds the most comprehensive collection of printed material in late Ottoman Turkish (about 80,000 items) and modern Turkish (about 1 million items), with particular strengths in periodicals (including over 230,000 journals and newspapers). Some of these items are available on microfilm. The National Library has sizeable numbers of monographs in Arabic, English, French, German, and Persian, but primarily of more recent publications. The library also holds many CDs and DVDs, including some hidden gems like oral histories, but these collections are poorly identified; the oral histories, for example, seem to have been collected in a single unidentified project and the subjects are mostly Istanbul professionals speaking to unnamed interviewers in 2010. The National Library's most unique collection is certainly the Atatürk Document Repository (Atatürk Belgeliği), which includes a wide array of textual and visual materials related to Kemal Atatürk's life and legacy. This collection, open to users since 1983, contains 15,011 items ranging from books, magazine and newspaper clippings to paintings, sculptures, photographs, and newsreels, to personal items like passports, badges and lottery tickets.
The National Library provides some excellent online resources. Manuscripts, periodicals in Ottoman script, old gramophone recordings, and visual art materials (particularly paintings and film posters) have largely been digitized and are freely available online (links below). Anyone can search the digitized catalogs, but to view the results, you must create a free user account. There is a per-page charge for downloading digitized images. Due to the rather cumbersome process of working at the library in person, I would highly recommend that researchers interested exclusively with such materials register online and work from elsewhere
Access
Registration. No one can enter the library without a user card. There is a pre-registration form on the library website, which can be submitted before you arrive. Bring your passport to the user registration desk (past the metal detector at the entrance, and around the left-hand corner) to have your photo taken and receive your user card. If you did not have a chance to pre-register online, you can fill out the same form at a computer kiosk next to the registration desk.
If you're a Turkish citizen, or if you're a foreigner on a residency permit or research visa with your paperwork cleared in advance, this is the entire process. If you're on a tourist visa, you'll be sent off to an office down the hall to fill in the standard research permit forms to approve you for a foreign researcher (yabancı uyruklu araştırmacı) user card. The staff is generally monolingual in Turkish, so if you have any trouble communicating, get someone to lead you down to this office, where there are a few staff members who speak English. The forms, written in Turkish and English, are straightforward and you do not need a letter of introduction; your passport and, if applicable, an ID card from your institution will be all you need. Your forms should be approved on the spot, and you'll be sent out to hand copies to another office and go back to the front registration desk, where you will finally get the user card. Cards are issued for periods ranging from three months to one year. My three-month card cost 5 TL.
Getting inside. Now that you have your card, get in line for the machines in the front lobby that assign spots in one of the six general reading rooms (one of these is reserved for professors, and another for high school students). Unfortunately, no one can enter the turnstiles into the library without a seat assignment, even if you intend to spend your time in a room without assigned seating (such as the rooms for viewing periodicals, microfilms, Atatürk documents, etc). The machines are straightforward: insert your user card, and you'll be shown which rooms have available seating for you to select. It doesn't matter much which room you choose unless you specifically want to use books printed in Ottoman script, in which case you must select the İbn-i-Sina Reading Room. After you have made your selection, take the receipt for your seat number, and your card will now unlock the turnstiles and permit access to the rest of the library.
When planning your research time, note that during the academic year, the library is overrun by Ankara's large undergraduate population, and all the reading rooms tend to fill within an hour of opening. Once the library is full, it can take 1-2 hours or more of waiting in line by the entry machines before a slot opens up for you. To avoid this frustration, I recommend arriving up to a half hour before opening time (a line will already be forming). The other effect of this system is that you will not want to exit the library for longer than a ten-minute break until you are finished for the day. Ten minutes after you exit the front turnstiles, your seat assignment lapses and is made available to others waiting. Plenty of users duck outside to smoke a quick cigarette, but for food, you're stuck with the library cafeteria (there's barely enough time to cross the street to get to the next closest source of food).
During the summer vacation (mid-June to August) the competition for space is not quite as cutthroat; only those specifically using Ottoman-language materials and therefore needing space in the relatively small the İbn-i-Sina room may want to arrive early. You can monitor how full the reading rooms are directly on the library's homepage under the heading "Okuma Salonları Doluluk Oranları."
Requesting materials. In general, everything is requested via paper forms, and you can only submit three of these at one time (six for professors). There are computers on the second floor with access to the online catalog. For books, use the forms next to these computers and submit these to the "Okuyucu Bankosu" on the second floor. For periodicals or microfilm/non-book materials, go to the desk inside the periodicals room on the ground floor or the "non-book materials center" on the lower floor to fill out and submit the appropriate forms. Materials generally arrive between fifteen and twenty-five minutes after your request is received. The desk will hold on to your user card while you have the books, and give it back when you return them. Since you cannot exit the turnstiles without your user card, this is their way of preventing book theft. After hours and on weekends (only), you can request books online from the library website.
Reproductions
There is a photocopying service across from the Okuyucu Bankosu. As of May 2015, prices were 5 kuruş per A4 page (10 kuruş double-sided) or 10 kuruş per A3 page (20 kuruş double-sided). I did not use the service, but it appears that requests are fulfilled very quickly.
I never found any written policy on the use of digital cameras on modern materials, but I used mine to photograph twentieth-century books and periodicals in the reading rooms in clear view of staff and no one seemed to mind. Those working with older (Ottoman) or special materials should ask the reading room's staff to confirm whether digital photography is acceptable for those items, especially since photocopying these materials is explicitly forbidden. Digitized materials and microfilms can be copied onto CDs/DVDs by staff; there is supposed to be a fee, but when I requested a DVD copy of an oral history recording, the staff refused to charge me anything.
According to the library website, researchers outside of Ankara can order materials to be scanned/copied and sent to them. I have no experience with this service.
Internet access: Free wifi seems to be available, but a Turkish mobile number is required to register for access to the wifi signal, so I was not able to test it. Wired internet access is available on the thirty computers of the "Interactive Salon," really an open space on the same floor as the Okuyucu Bankosu. Access to these computers is granted by a machine that scans your user card, which limits you to one hour of internet use per day, and further prevents you from using these computers while in possession of any library books.
Food
Every floor has vending machines for bottled water and hot coffee/tea (only water bottles are allowed in the reading rooms). There is a cafeteria on the lower floor that sells simit and packaged snacks, hot and cold drinks, and basic hot meals (tost, köfte, spaghetti, salads and the like). Prices are low (up to 6 TL for a meal) and so is the quality of the food. Pay the cashier to the right of the entrance before taking your receipt to the food line on the left. Since there is no locker system, anyone who would rather pack their own lunch to eat in the cafeteria should have no problem doing so.
Getting there
The National Library is well served by public transit. It has its own Metro station on the new Kızılay-Koru line, which is definitely the most convenient option for anyone approaching from the east through Kızılay (Ankara's transit hub) or the west from METU or Bilkent (Ankara's main English-medium universities). There are also many bus and dolmuş lines departing from Ulus and Kızılay that stop in front of the library on İsmet İnönü Street.
Contact
Address: İsmet İnönü Caddesi/Bahçelievler Son Durak, 06490 Çankaya/Ankara
Phone: +90 312 212 62 00
Fax: +90 312 223 04 51
Email: bilgi@mkutup.gov.tr
Hours: Mon-Fri, 9:00-0:00; Sat-Sun, 9:30-22:00
(New user registration: weekdays, 9:30-12.30 and 13:30-16:30; materials fetching: weekdays, 9.30-17:00)
Useful Information and Links:
Digital Collections (manuscripts, Ottoman periodicals, visual arts)
Information on Ankara's bus system
Elise Burton is the Associates' Research Fellow at Newnham College, Cambridge. She completed her doctoral studies at Harvard University in 2017 and her current research focuses on the history of genetics research in Iran, Turkey, and Israel since the First World War.